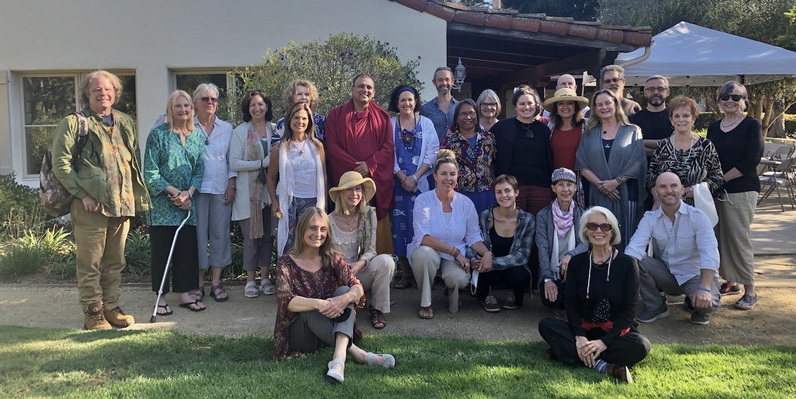 *Dharma is priceless!  All of our meditation and teaching events are supported and arise through the generosity of spiritual friends like you.  Any donation is kindly appreciated. Please make a donation today.
No one is turned away from teachings due to financial hardships. If you need assistance, please enquire: davidezaccagnini@hotmail.com
Upcoming Retreats
12 Links of Dependent Origination
on-line retreat with The Venerable Tenzin Priyadarshi
Saturday March 25, 2023, 8AM PT / 11AM ET
The Bud­dha described the basic principle of dependent origination by saying:
When there is this, that is.   With the arising of this, that arises.  When this is not, neither is that.  With the cessation of this, that ceases.
Lama Tsongkhapa claimed that there was no teaching of the Buddha more profound than dependent origination and that by understanding the process of the 12 links, one creates a deeper understanding of how suffering arises and the way in which it can end.
Etiquette for Virtual Gatherings, CyberDharma and on-line Retreats 
Join the session a few minutes prior to the actual start time.
Be sure that your computer is connected to the network and have the login information available.
When using video be sure that camera is at a proper angle. Or else choose not to transmit video.
Whether you are using computer audio or a phone line, mute yourself unless you have to say something or it is a Q&A session. After you've asked your question turn the phone to mute.
Do not pace around or talk to your pets or yourself while having the audio and video on. 
When using phone line only be sure you are at a quiet spot. If you are by yourself, please use a headset.
Prayer-books and texts are generally circulated in advance.
Virtual Meditation Sessions
Join the session a few minutes prior to the actual start time.
Find a quiet and comfortable place to Join in/ call in from.
Meditation sessions are generally silent unless it is a guided meditation
No Q&A unless the instructor has suggested as such