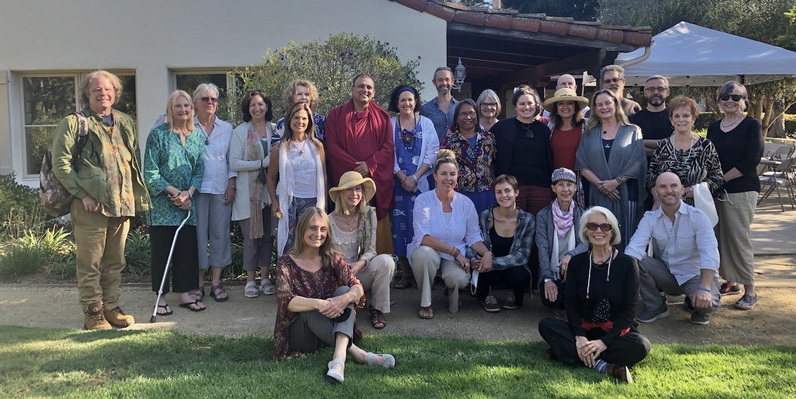 CyberDharma Teachings:
Teachings on the Lotus Sutra 
Saturday, August 6, 2022 9AM PT / 12:00PM ET
Suggested Donation: $20 per session
Teachings are made possible through your ongoing support. Click here to give online.
Subscribe to our newsletter. Add "info@bodhimarga.org" to your safe list so emails don't end up in spam.  Teachings are held over Zoom.
Recent Past Teachings:

Lojong: Thought and Mind Transformation
Sutra of Remembering the Sublime Three Jewels
Special Practice Sessions:
Sadhana of Thousand Arm Avalokiteshvara
(Sahasrabhuja-lokeshwara)
Sunday, June 12, 2022 11:30am ET / 8:30am PT
This session is an opportunity to practice the sadhana together. No teachings or instructions will be provided. Participants should have received necessary initiation/ empowerment. We hope that practitioners will use this opportunity to both familiarize and stabilize their practice. Click here for sadhana text.
*(You will receive an email with login information)
Online Practice Sessions:
Tara Mantra Recitation Session  
7AM PT/ 10AM ET
TBD
A wonderful way to begin your day and to stabilize your practice. Each session will be 30-45 mins long.
20 Minutes of Calm 
Virtual Sittings – Online Meditation Sessions
Resuming this fall.
Special Events: 
"Meditation(s)" 2021 Prajnopaya Institute of Buddhist Studies
Click here to watch recordings  of  talks by Pir Zia, Sharon Salzberg, Bhikkhu Bodhi and Robert Thurman and Don Morrison. Please consider supporting this work by making a tax deductible gift online.
*Dharma is priceless!  All of our meditation and teaching events are supported through the generosity of spiritual friends like you.  Please consider making a donation today. If you would like to donate to our Scholarship Fund, click here.
*No one is turned away from teachings due to financial hardships. If you would like to request scholarship assistance, please send an e-mail to: davidezaccagnini@hotmail.com
Upcoming Retreat
37 Practices of a Bodhisattva
with The Venerable Tenzin Priyadarshi
Saturday, August 20, 2022    11:00am ET / 8:00am PT
In Buddhist traditions the Bodhisattva is one who aspires to develop an enlightened mind by practicing compassionate activities to help all sentient beings attain happiness and be free from suffering.  
 This retreat will focus on the classic 14th century text, "The 37 Practices of a Bodhisattva".  Written by the great Tibetan master, Gyalse Thogme Zangpo, these verses are a treasure trove of wisdom and insight designed for practical application in our complicated world. Participants will deepen their understanding of how to develop genuine compassion and warm-heartedness for others.  These beneficial qualities give rise to true inner confidence that allows all of your relationships to be nurtured through mutual respect, gratitude and love.
Beginning or more advanced students are all welcome to attend.
 *After registering be sure to wait for and then copy and save the confirmation page as no additional e-mails or reminders will be sent.
Etiquette for Virtual Gatherings, CyberDharma and on-line Retreats 
Join the session a few minutes prior to the actual start time.
Be sure that your computer is connected to the network and have the login information available.
When using video be sure that camera is at a proper angle. Or else choose not to transmit video.
Whether you are using computer audio or a phone line, mute yourself unless you have to say something or it is a Q&A session. After you've asked your question turn the phone to mute.
Do not pace around or talk to your pets or yourself while having the audio and video on. 
When using phone line only be sure you are at a quiet spot. If you are by yourself, please use a headset.
Prayer-books and texts are generally circulated in advance.
Virtual Meditation Sessions
Join the session a few minutes prior to the actual start time.
Find a quiet and comfortable place to Join in/ call in from.
Meditation sessions are generally silent unless it is a guided meditation
No Q&A unless the instructor has suggested as such